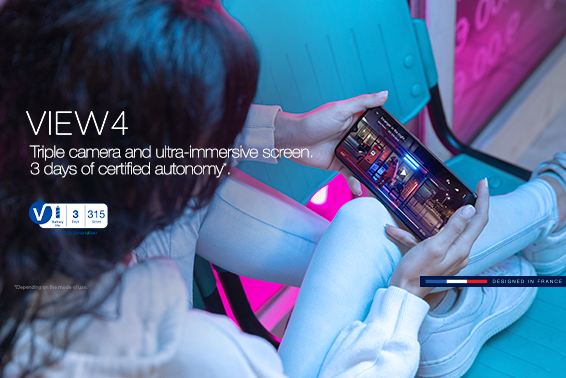 SmartViser certifies 3 days of autonomy for the Wiko View4!
Making technology accessible is
Wiko's DNA
.
Going further with this strategy, the brand reinforces its focus on battery autonomy this year. Because we are always on the go and life never sleeps, you need power to fuel those long hours.
View4
is equipped with a 5000 mAh battery, supported by an octa-core processor, a smart triple camera and max storage with 64GB. All those features loaded in a full screen and trendy design. The Wiko
View4
is indeed armed to face the most demanding uses for long hours.
In order to constantly improve the brand's smartphones autonomy, we are working very closely with
SmartViser
, an independent product testing laboratory. This third-party expert tests Wiko's smartphone by simulating real consumer usages, in real network conditions, intended to optimise and grade performance based on an average user profile.
Based on the results in terms of battery life, SmartViser has noted
«the impressive performance»
of the Wiko
View4
and has even called it a
« marathoner »
certifying 3 days of use. The viSerMark complex autonomy test protocol does not replicate basic use but rather intense real life use.
The
View4
has obtained a
viSerMark rating of 315.
To this day, it's the only device in SmartViser's labs to achieve
3 days of use
.
So, are you ready to enjoy your
Wiko View4
for 3 days?
Discover the
View4
.
Sources: https://www.smartviser.com/wikoview4
Related products
Other articles in this section: